The Phone Card Grading and Encapsulation Process
Package your phone card
Carefully package your phone card for shipping to avoid damage or scratching in transit.
Send your phone card
Mail your phone card to PCG with a tracking number and insurance.
Authentication and Evaluation
Our experts will authenticate, grade, and encapsulate your card.
Your phone card will be mailed back to you
We will insure and mail your phone card back to you in tracked, protective packaging.
What you will receive
You will get your phone card back in sealed slab with a link to print your Certificate of Authenticity.
How to send PCG your phone card
Authentication, grading, and encapsulation services are only available to our Phone Card Grading members. More information detailing our free and paid membership levels is available on our Memberships page.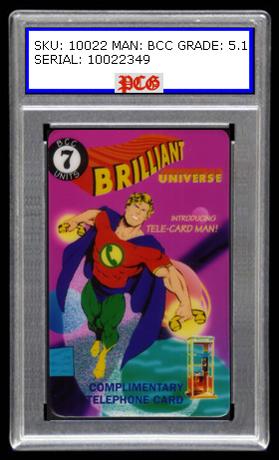 Document your phone card
Please document all important details and information about your phone card and its condition including taking pictures for your own records prior to sending it to PCG. We will also photograph and document your card when we receive it.
Complete the submission form
Fill out our Submission Form accurately and completely with as much detail as possible. The submission form is very important and must be included with your shipment. There is space for a description of your card, and also for unique information such as a batch, PIN, control, or serial numbers, and for additional characteristics you may want to include.
Submit payment
Our submission form also serves as an invoice detailing costs associated with grading and encapsulating your phone card. The total will include return shipping to you (using a provider of our choice) as well as the cost of insurance ($1.75 per card with a $5 minimum per package). Payment must be submitted when the submission form is completed before your card can be evaluated.
Package your phone card
Each phone card should be protected with a "penny sleeve" or some type of holder where it won't get scratched or damaged during shipment. Soft paper may also be used if a proper sleeve is not available. Your protected phone cards should be placed inside a mailing envelope with some kind of additional protection - like a padded or bubble envelope or placed between cardboard. The phone cards MUST be accompanied by a printed copy of the completed Submission Form.
Ship your phone card to PCG
You may send your phone card via USPS using First Class, Priority, Certified, or even Registered Mail. We also accept shipments from UPS, FedEx, DHL or other carriers (but at a different mailing address). Your package MUST have a tracking number so you will know where it is and when we receive it. Insurance is also strongly recommended.
Processing Time
Processing from the time we receive your package to the time the slabbed cards are postmarked back to you should not exceed 30 days. We will email you a tracking number once the item is shipped.
When you are ready to submit your card...